The Forest Keeper Gustav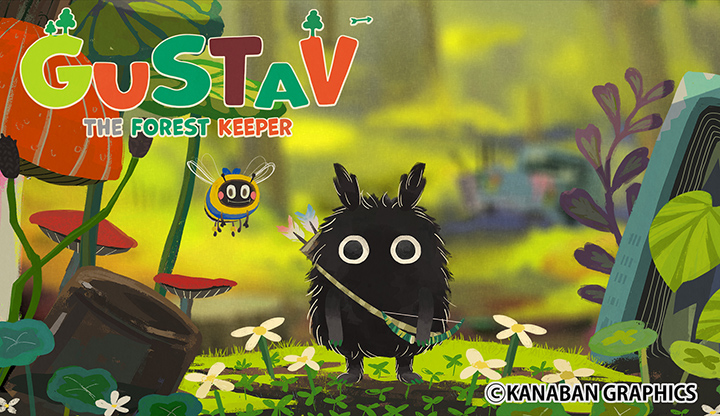 Synopsis
"The Novice Guard is constantly on the Watch."
The main character Gustav is the guardian of the Forest. He is on the watch to ensure peace in the community. Gustav is too inexperienced to know what to look out for, but he must stay vigilant.

The inhabitants of the Forest like to poke fun at Gustav because he is so small and naïve. Gustav wins everyone's respect as he grows to be a giant guardian of the Forest. Gustav does not let his lack of experience get in the way of showing his strong sense of justice. An excellent archer and apple lover, Gustav is never caught without his trademark belly warmer because he has a delicate stomach. His sidekick is a stray bumblebee named Fugo.
Quirky inhabitants of the Forest bring surprises and mishaps when Gustav is at work. It is time for Gustav to intervene!
Comment
Gustav gets embroiled in various troubles but comes up with ingenious solutions in the end, thanks to his sense of justice, tenacious positive thinking and childlike yet innovative ideas. Although it must be added that his effort sometimes ends in a failure.
This series conveys a simple message to the viewers: Don't let an obstacle stop you. Keep trying. It's OK to fail as long as you do your best.
Credit
Director/Author/Screenwriter : Satoshi Tomioka
Art Director : Aguri Miyazaki
Production : KANABAN GRAPHICS
Creator Profile

Kanaban Graphics, Ltd.
Kanaban Graphics is a computer graphics animation studio known for a wide range of work such as "Usavich," "Yan Yan Machiko," "Inazma Delivery," commissioned TV series, games, and commercials. The studio's expertise ranges from planning, script writing, staging, storyboard making, art direction, to the entire process of 3D CG production. The studio has successfully negotiated numerous licensing and distribution contracts in Japan and overseas.
Company Contact
Kanaban Graphics, Ltd.
Daishin NS Building 9F, Honcho 1-13-18, Nakano-ku, Tokyo 164-0012
http://www.kanaban.com
TWIN OBAKÉ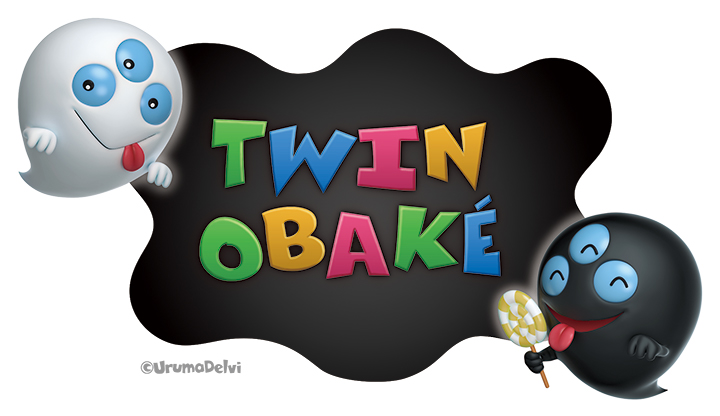 Synopsis
"Obaké is the Japanese word that describes non-human, supernatural creatures such as monsters, ghosts and spirits."
Tin cans stuffed with bizzare Obaké from England have washed ashore on a deserted island in the Bermuda Triangle. Without any humans to bother them, these Obaké settle on this island and live a mostly peaceful life. Enter the clumsy twin Obaké Shirochi and Kurochi. They always turn small scuffles into a ruckus. Fellow obaké seem to enjoy their antics and look forward to their next big misadventure. Delivered in a series format, this is a hilarious slapstick comedy played by an ensemble of cute and eccentric Obaké.
Comment
Despite differences in appearance and personality, these Obaké are all friends. Sometimes they fight, but they make up right away by sharing a bite of their favorite treats. We would like TWIN OBAKÉ to be a comedy that not only makes children laugh, but also help nurture their sense of generosity, compassion and forgiveness.
Credit
Creator, General Director: UrumaDelvi
Director: Masanori Numaguchi, Shunsaku Usui
3DCG Animation: Flying Ship Studio
Producer: Emmy Ozawa
Creator Profile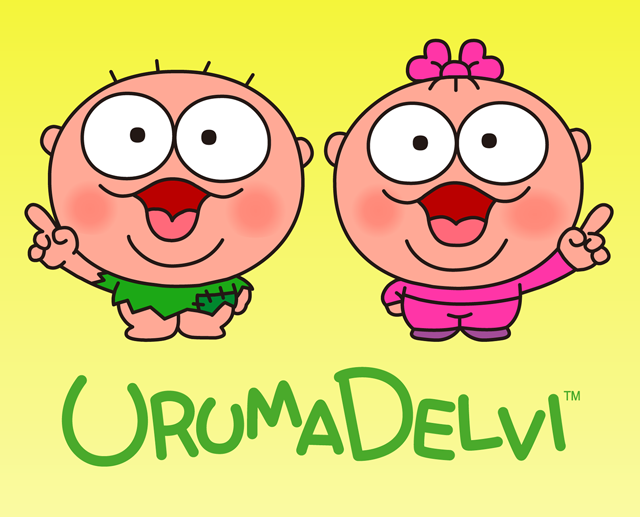 UrumaDelvi Studio, Ltd.
The studio was founded by the artist duo "UrumaDelvi" in 1998. Major works include "Ugo Ugo Rūga / Shikato" on the Fuji Television Network, "Oshiri Kajiri Mushi (Bottom Biting Bug)" on NHK Minna no Uta, the children book series "Shiro Obaké Kuro Obaké (Twin Obaké) Series" etc. UrumaDelvi Studio creates original characters and a meticulously constructed setting for these characters, resulting in various contents including animation, children books, and songs. The studio has created over 600 original characters and 500 works of animation, a majority of which was independently produced. UrumaDelvi's foremost aspiration is to bring world peace by bringing laughter to all three generations of families; children, their parents and their grandparents.
Company Contact
Feather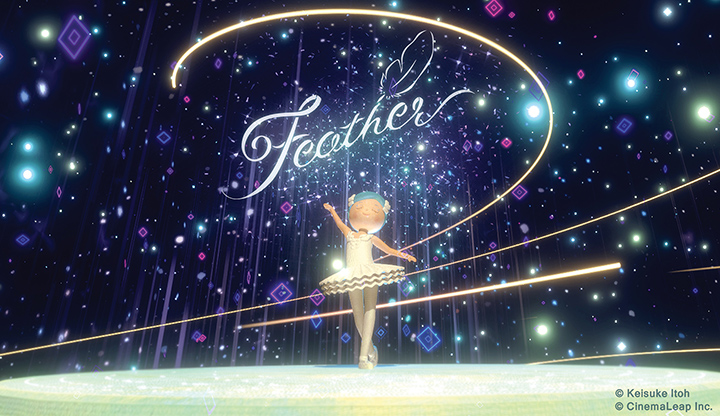 Synopsis
A small doll is living in a doll house in the attic and dreams of becoming a ballet dancer. The viewer not only watches the movie but also virtually interacts with the doll in the course of the story by handing her a white "Feather", the symbol of courage and encouragement. When the doll feels discouraged or encounters difficulties in the story, a soft and airy "Feather" appears in front of the viewer. Each time the viewer hands the "Feather" to the doll, she grows up a little and takes a step closer to making her dream come true.
Comment
People tend to believe that happiness is a passive state of being. We like to point out that by participating in the act of giving, we can experience genuine happiness.
This interactive movie does not contain dialogues or subtitles. Anyone can enjoy it by simply wearing a VR headset. The accessibility of this movie will hopefully allow more people around the world to experience the "Feather."
Credit
・Director : Keisuke Itoh
・Producer : Katsutoshi Machiba
・Assistant Producer : Tetsuya Ohashi
・Original Music : Yui Morishita
・Logo Design : Miku Akiyama
Creator Profile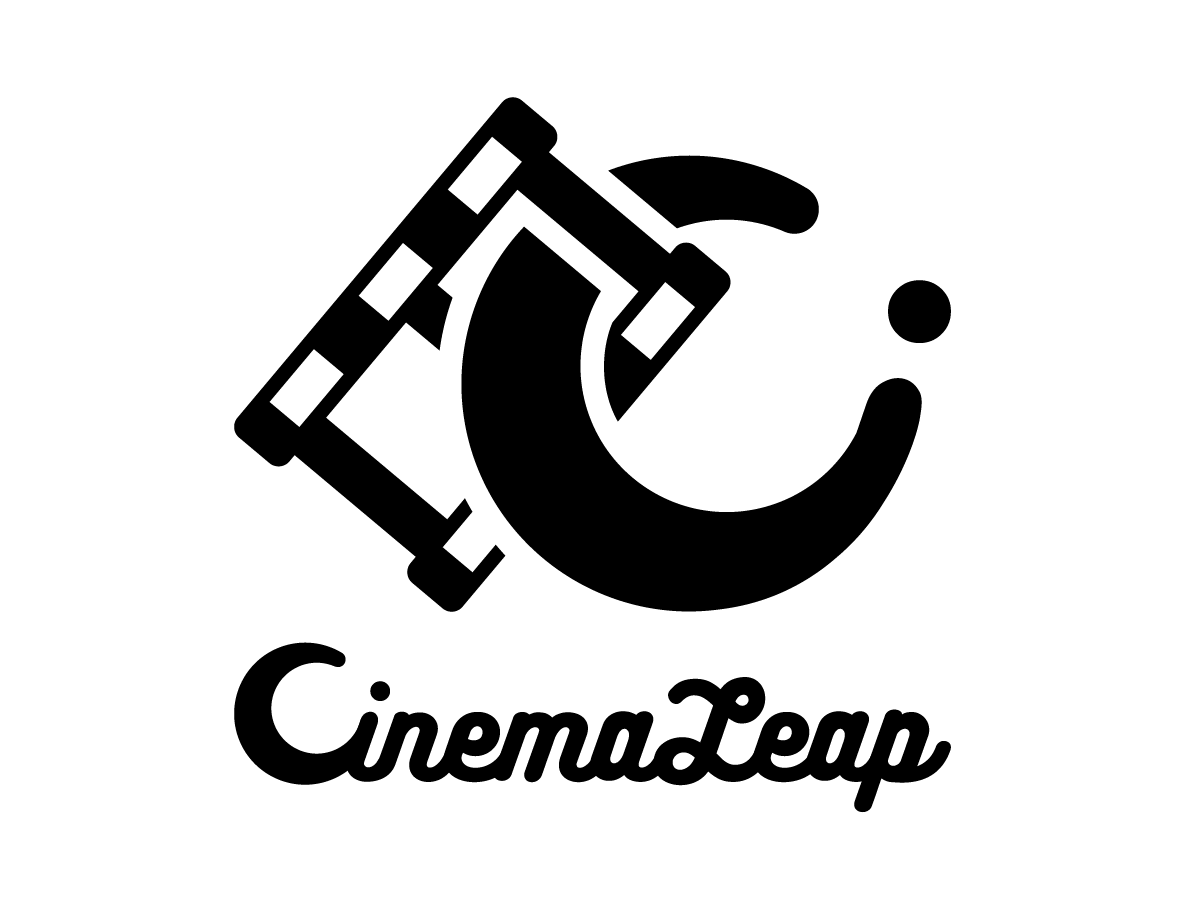 CinemaLeap Inc.
Founded in April 2019, CinemaLeap produces and distributes VR as well as vertical format movies for smartphones. We produce web films for various corporations. The VR animation movie "Feather" by Keisuke Ito, distributed by CinemaLeap, has been screened and nominated for awards at many festivals including the Venice Film Festival, the Busan International Film Festival, and the Berlin International Film Festival European Film Market section.
Company Contact
Shiroyama Trust Tower 4F, Toranomon 4-3-1, Minato-ku, Tokyo 105-6004
info@cinemaleap.com
https://cinemaleap.com/
SAMURAI PIRATES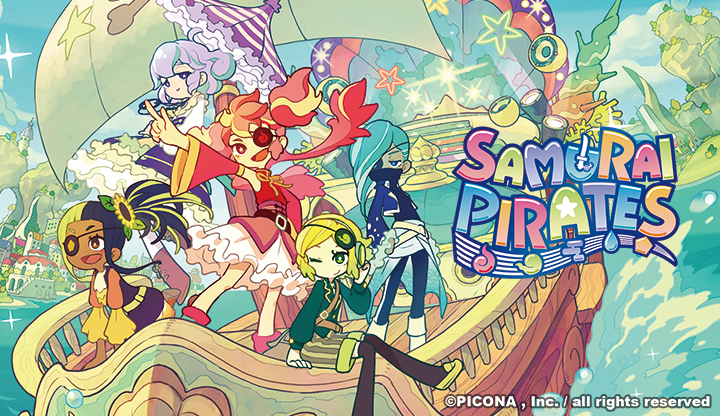 Synopsis
The story takes place on an island city called Takarajima. One day, the Element Spirit "Ometsuke" bestows a local pop star named En with the power of the Samurai soul. She is given a mission to get rid of 'ONI," a monster possessed by an evil spirit. Four girls join En to form "Lovely Pirates," a pop group which in fact is a secret band of the super heroes called "Samurai Pirates". They fight against "ONI" and take back different forms of "happiness" stolen from the people of Takarajima.
Their magic spell "Happy Get! Oni wa soto (Evils out)!" echoes throughout these action-and-adventure-filled episodes when the pop stars transform into Samurai Pirates and fight against evil.
Comment
Kids and adults are equally vulnerable and can give into negative forces and temptations.These five brave girls fight against evil to reclaim various forms of happiness, sending young viewers an encouraging message: "Never give up. Use your power to claim back what is valuable to you."
Credit
Planning/Original/Producer: Ken YOSHIDA
Script/Series composition: Munenori MIZUNO
Character design/Artwork: Sayaka SHIMADA (REDHOUSE)
Logo design: Jun SUZUKI (REDHOUSE)
Director/Storyboard: Yoshiharu ASHINO
@PICONA, Inc.
Creator Profile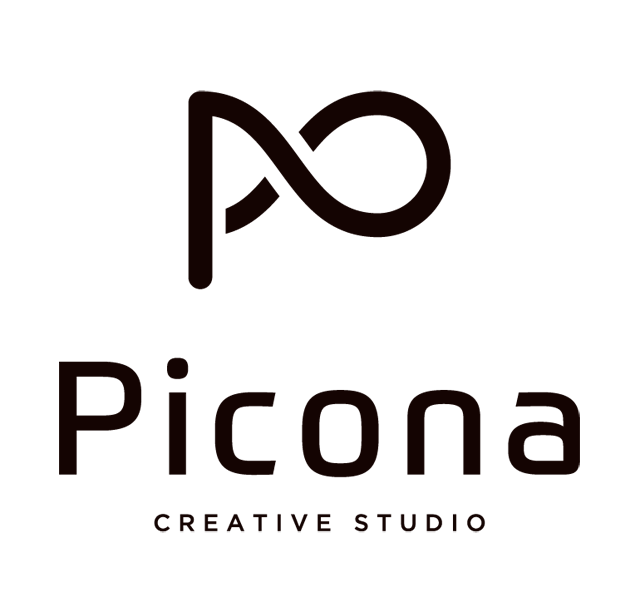 PICONA, Inc.
As an animation studio, we specialize in 3D Computer Graphic animation, graphic design, original animation, character planning/development and production. Known for our excellent use of 'Toon/Cel Shading' technique for 3DCG and children's animation, we have been focusing on developing original works for the overseas market in recent years.
Company Contact
No.5 Sky Building 311, Sendagaya 3-3-8, Shibuya-ku, Tokyo 151-0051
TEL: 03-6384-5966 FAX: 03-6384-5965
HP: http://picona.jp
Dragon Delivery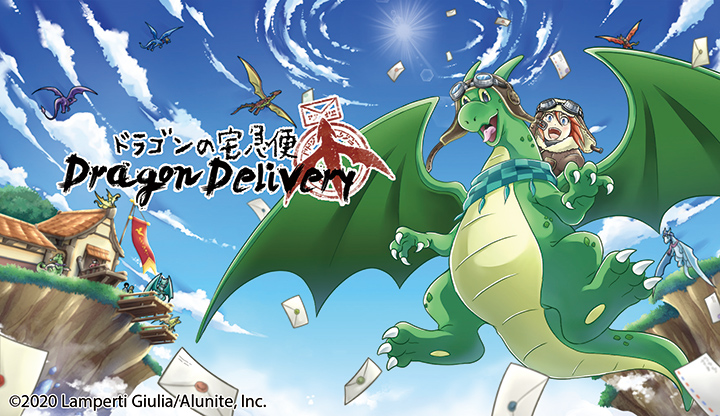 Synopsis
In a world made of a sea of clouds, dragons deliver letters and packages to people living on islands in the sky. Dragons are proud and powerful creatures, but one of them, Paffu, is a shy dragon and a real troublemaker. He has a bad reputation within the postal office and no one wants to leave the job up to him, so his mail box is always empty. However one day, a little girl comes to him and asks to deliver something under one special condition: Paffu has to bring not only the package but also the girl herself to Its destination!
Comment
This is a heart-warming story of a growing bond between a human and a dragon and the importance of friendship. I present a simple storyline comparable to the "World Masterpiece Theater," the beloved Japanese TV Anime series based on classical books. Mixed with fantasy elements and captivating character depictions, I hope to mesmerize viewers of all generations.
Credit
Original concept, pitch, direction:Lamperti Giulia
Producer:Limthong Chidphong, Mochizuki Kohtaroh, Lamperti Giulia
Concept art:Lychnis, Sakai Ai
Animation:Piti Yindee, Akatsuki Yo, Maxi, Youngsoon Shin, Pino Nippy Ieno, Lamperti Giulia
Composition:Katano Kaede
Music:Roger "Rekcahdam" Hicks
Creator Profile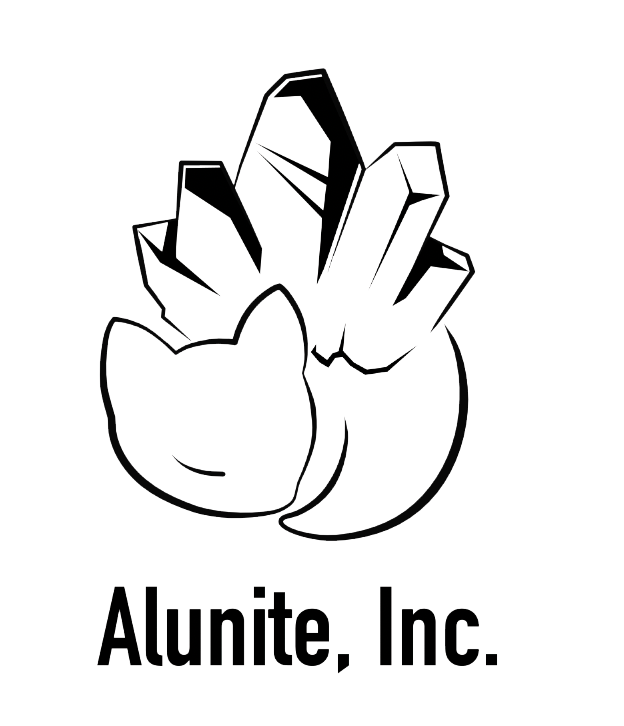 Alunite, Inc.
A creative studio founded by an animator and producer Kohtaroh Mochizuki, Chidphong Limthong and Giulia Lamperti. Plans, produces, and researches and develops a variety of content, storyboards and characters, including animations, and realizes works with unbroken creativity and messages. The planning and production of the exhibited work "Dragon Delivery" was used as an opportunity to incorporate a borderless production system with a predecessor independent production group with international creative roots and started in 2020 (the first year of Reiwa period in the Japanese calendar).